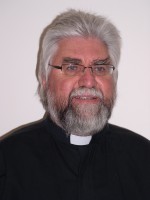 PARISH PRIEST
Fr JOHN MATHES  is the current Incumbent of the Parish. Fr John came to the Anglican Parish of Christ Church Essendon in January 2010 from the Diocese of Ballarat. He was made a deacon in 1991 and ordained a priest in 1992 in Ballarat.
He has ministered as a Youth Worker in Geelong and Bendigo, School Chaplain in Colac, Horsham and Ballarat and in Parish ministry in Horsham, Creswick, Ararat and now Essendon.
In the Ballarat Diocese he was a Rural Dean and a Canon of the Cathedral for a number of years before moving to the Diocese of Melbourne.
Fr John has been a Police Chaplain for over Twenty years in Ballarat, Ararat/Stawell and Footscray Police Stations.
Fr John is married to Carolyn and they have two adult daughters in Jillian and Trudy and a grandson Fred.
Fr John enjoys reading theology and medieval murder mysteries. He loves listening to music especially rock n roll. He enjoys walking and a chat over a good coffee. Yes he does barrack for the Essendon Bombers in the AFL.
In 2015 Fr John was made Area Dean of Essendon and due to boundary changes in the Diocese became Area Dean of Coburg in 2016.
ASSOCIATE DEACON  Rev'd Sue Hurren
My name is Suzanne but I have answered to the name of Sue since I married Geoff in 1969. I live in Westmeadows with only one daughter near us and one in Darwin and the other in Christchurch NZ, with their families.
I have been an Anglican all my life and was a Sunday School teacher and in the choir at St Matthew's Glenroy before I was married.
When we moved to Westmeadows I was involved in Sunday school, Christian education in schools and Nursing Home visits with different priests at the helm over time at St Paul's. One suggested I give up the Sunday school and I became a Lay Reader. (I had always wanted to be a preacher in my teens!) When I had finished my Social Work degree I was asked to set up the Bridge Op Shop, this still supports the Parish. Bishop Curnow suggested that I go to Broadmeadows and was there during the closure of St Michael of All Angels and continued on at St Mary Magdalene's.
I was ordained a Distinctive Deacon in 2000. CE, Nursing Home services and a service Sunday Evening were my responsibilities. I worked at St Vincent's as a Pastoral Carer, in the year I received my Social Work degree, which prompted me to undertake three units of Clinical Pastoral Education the year following. The next year I was employed as Chaplain to Cancer Services, it was a part time position enabling me to be Anglican Chaplain at North West, and later Families Deacon at Holy Trinity Kew, after leaving Broad-meadows. My BTH(eology) was completed in 1997
I decided to leave the Austin and take up a position at Bacchus Marsh in Palliative Care as Social Worker, Bereavement Counsellor and Volunteer Coordinator nine years ago. I also started in the Parish of Footscray to set up a Sunday School with the 30 – 50 very active Sudanese children who used to be there on a Sunday, I also visited an Aged Care facility each month.
In 2013 I came to Christ Church Essendon and assist in the Sunday worship, home communions and nursing home services.