PARISH PRIEST
Fr JOHN MATHES  is the current Incumbent of the Parish. Fr John came to the Anglican Parish of Christ Church Essendon in January 2010 from the Diocese of Ballarat. He was made a deacon in 1991 and ordained a priest in 1992 in Ballarat.
He has ministered as a Youth Worker in Geelong and Bendigo, School Chaplain in Colac, Horsham and Ballarat and in Parish ministry in Horsham, Creswick, Ararat and now Essendon.
In the Ballarat Diocese he was a Rural Dean and a Canon of the Cathedral for a number of years before moving to the Diocese of Melbourne.
Fr John has been a Police Chaplain for over Twenty years in Ballarat, Ararat/Stawell and Footscray Police Stations.
Fr John is married to Carolyn and they have two adult daughters in Jillian and Trudy and a grandson Fred.
Fr John enjoys reading theology and medieval murder mysteries. He loves listening to music especially rock n roll. He enjoys walking and a chat over a good coffee. Yes he does barrack for the Essendon Bombers in the AFL.
In 2015 Fr John was made Area Dean of Essendon and due to boundary changes in the Diocese became Area Dean of Coburg in 2016. 
In 2019 Fr John's role of Area Dean of Coburg was extended for 3 years and he completed 10 years at Essendon in January 2010. He now has a 5 year extension of ministry in Essendon.
Hon CURATE   Rev'd Fr David THOMPSON
David was originally a Church of Christ Pastor who was rescued from error and was made an Anglican Deacon in 2016 and was ordained a Priest in 2018.
David is also the Victoria Police Senior Police Chaplain
CHILDREN & FAMILY MINISTER / CURATE   Cathy TURNBULL
Cathy will be made a Deacon in February 2019 and will working in the Parish as the Children & Family Minister, coordinating Messy Church, the Play Group and connecting with families in  the region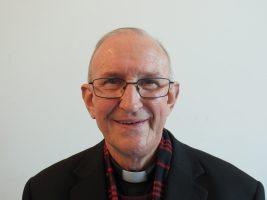 Hon ASSOCIATE PRIEST   Rev'd Fr Tom JEWELL
Fr Tom is a retired Priest who joined the Parish in 2018 and brings a wealth of experience. He is extremely caring and pastoral and an asset to the Parish.
ASSOCIATE DEACON  Rev'd Sue HURREN
Ordained a Distinctive Deacon in 2000
In 2013 came to Christ Church Essendon and assists in the Sunday worship, home communions and nursing home services.