Rev'd George Kirreh
PARISH PRIEST
Phone: (03) 9379 2770
Email:vicar@essendonanglican.org.au
Fr George was born in Jerusalem and moved to Greece to study at university.  From there he moved to Adelaide in 1994. He undertook theological training at the Adelaide College of Divinity, and was ordained a Deacon at St Peter's Cathedral, Adelaide in 2007 and as a Priest at St George's Cathedral, Jerusalem. Since then, he has held ministry roles in parishes overseas in Jerusalem and Jordan, as well as Murray Bridge and Adelaide in South Australia.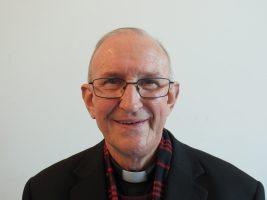 Rev'd Tom Jewell
Hon ASSOCIATE PRIEST   
Fr Toms a retired Priest who joined the Parish in 2018 an brings a wealth of experience. He is extremely caring and pastoral and an asset to the Parish.
Rev'd Sue Hurren
ASSOCIATE DEACON
Ordained a Distinctive Deacon in 2000. In 2013 came to Christ Church Essendon and assists in the Sunday worship, home communions and nursing home services.